COVID-19 Information
Updated 15 June 2020
Following UK Government Guidance and our own Risk Assessments, AIR Studios has drawn up a detailed Health & Safety Policy to protect the staff, clients and you from COVID-19.
This overview highlights the key points to help you understand the changes.
We also recommend you read the Musician Union guidance on what to expect when Attending Recording Sessions.
Further Documentation
Our full risk assessments and policies are available here
AIR Studios COVID-19 Studio Operations Risk Assessment
AIR Studios COVID-19 Health & Safety Overview
Updated

15 June 2020
Travel
To protect personnel at AIR and help reduce transmission in the wider community:
We ask everybody to avoid public transport, if they can, when travelling to AIR Studios
Extra cycle parking will be provided, and we will seek extra car parking locally
AIR staff will not be using public transport
Health Questionnaires
To reduce the chance that COVID-19 is brought on-site we require:
Completion of our online pre-registration 24 hours prior to coming to Lyndhurst Hall
Completion of a daily online health questionnaire whilst working at Lyndhurst Hall
Possible health screening, e.g. temp check, by medical personnel on arrival
Training & Communication
To keep all personnel informed and ensure safe practice:
All staff will receive COVID-19 H&S training before they return to work at the studio
Risk Assessments and Health & Safety Policies are available online
A dedicated online information hub has been created to keep staff informed
Arriving at the Studios
To ensure all personnel gain access safely when arriving you should:
Allow for extra time to access the studio for queuing, registration and health checks
Bring the access permission email – on a phone or printed to speed up sign-in
Bring just one small bag (excluding musical instruments) kept at your designated seat/space
Use the sanitising stations situated at the entrances.
If possible, stay within the grounds for the duration of the session that day.
On entry proceed directly to designated location/seat and remain at this location.
Remain at seat/station unless directed otherwise. The rest of the building is closed.
Social Distancing
To reduce the possibility of transmission on-site we are implementing:
2m marshalled queue in the car park for entry to the building plus additional entrances
Contact free sign in for all personnel with Sign In App or email invite
Protective screens installed on the main reception desk
Social distance signage installed in corridors and stairwells as appropriate.
Certain areas designated 1-way or "traffic light" controlled
'One person at a time' entry to all bathrooms and 1 person in the lift
Live Areas have strict seating protocols to maintain a minimum 2m social distancing
Restricted movement between control room and live area
Personal Hygiene
To reduce the possibility of transmission on-site we are providing:
Sanitising stations and signage at external entry and studio entry points
Advisory / guidance hand wash signage in all bathrooms
Single use paper towels in all toilet facilities
Pedal operated waste bins in all areas
PPE
Specific PPE is not mandatory for attending the studio; however we do ask that:
Musicians use face coverings or masks at all times when not playing.
Clients, crew and visitors use face coverings at all times when not in designated area.
Provision of PPE and face masks.
AIR staff will be supplied with, situation appropriate, PPE.
Client, crew, visitors & musicians should supply their own face coverings or PPE.
COVID-19 Specific Cleaning
To remove possible contamination of surfaces and equipment AIR will:
Disinfect common touch areas, in the morning & throughout the day after session breaks.
Perform deep cleaning of the studio between projects and sessions
Specific cleaning of musician equipment: chairs, headphones, music stands
Specific cleaning protocols for personnel responsible for studio equipment
Use anti-viral "misting" services and UVC disinfection systems as appropriate
Catering
To keep all personnel safe during breaks:
AIR Canteen will remain closed as per current Government guidelines
Tea, coffee and water fountain facilities will be unavailable
Musicians are asked to bring all food/drink that they require for the day with them
Clients and musicians are asked to eat at their seats/station or in space provide outside
Musicians are asked to take all their waste/rubbish home with them or use pedal bins provided
This policy overview is also available in Microsoft Word format
Operating Procedures
Musician Guidance
Updated 15 June 2020
Protocol
Whilst on-site musicians are requested to:
Wear a face covering or mask at all times except when playing
Stay at their designated seat or station
At breaks only leave their seat when instructed
Be mindful when moving about the live area not to encroach another musicians 2m space
Musicians are not permitted to touch any studio equipment other than their designated:
Chair
music stand
sheet music
headphones
instrument and personal belongings
Musicians must not touch or use another musicians designated equipment.
Musicians must not plug their own equipment/chargers into mains sockets
Breaks
Musicians should remain seated until instructed. We have provided access to an outdoor area and musicians are encouraged to use this on breaks. You will be informed which toilets are in use on a given session.
The rest of the studio building is STRICTLY out of bounds - this includes the gallery unless you are seated in the gallery.
Headphones
Will undergo specific anti-viral cleaning before and after use
Can be cleaned by the user with their own cleaning products
Musicians can bring their own headphones
Musicians must minimise contact with our headphone stage boxes
Specific Instruments
We request that players of the following instruments should also:
Brass – capture spit valve content with a container, towel or cloth and take this off-site
Wind - extra measures, e.g. screens, may be in place to further mitigate risk of certain instruments e.g. flute
Vocals/Choir - extra measures,, e.g. screens/booths, may be in place to further mitigate risk
Session End
Please leave the studio promptly whilst observing 2m distancing from your fellow musicians. There is no requirement to "Sign Out", we will do this for you.
Client, Crew & Visitor Guidance
Updated 15 June 2020
Protocol
Whilst on site clients, crew & visitors are requested to:
Wear a face covering or mask at all times except when in their Team Area
Stay within their designated Team Area during sessions
Be mindful when moving about the Team Area not to encroach another persons 2m space
Teams & Cohorting
All staff, clients & crew that attend a session will be assigned to a "Team" for the day. This will dictate at what time you can access which areas of the studio. Only essential personnel are permitted to attend sessions so visitors to sessions are not possible.
Sound Engineer, Recordist, Assistant
Control Room Team. No access to the Live Area once the musicians are in the Live Area. There is a dedicated toilet facility for this Team.
Producers & Directors
Control Room Team. No access to the Live Area.
Music Editors
Control Room Team. No access to the Live Area.
Composers
Control Room Team. No access to the Live Area unless you are also conducting in which case:
Conductors
Live Area Team. No access to the control room - even in the breaks. Any playback will be done via cans.
Orchestral Supervisors/Contractors/Managers/Fixers
Live Area Team or Control Room Team. Assigned depending on which location would benefit the role best.
Stage Assistant
Stage Team. Access to the Live Area with access time limited once the musicians are in session. Access to Heath & Safety Area. No access to Control Room once musicians Control Room Team are present. The stage assistant is responsible for opening the Live Area doors.
Copyists
Stage Team. Access to Live Area but limited to when no musicians are present or there is limited occupancy - e.g. breaks. Distribute the scores to the stands before the musicians enter the Live Area. Provide boxes for the musicians to deposit the scores at the end of the session.
Technical Support
Technical Team. Access all areas but strictly time limited in the Live Area when musicians are present. Technical Support may provide longer assistance in the control room providing all occupants observe social distancing.
Technical Director (H&S)
Health & Safety Team. As per Stage Team but Access All Areas to for any supervision or enforcement issues.
Medic
Health & Safety Team. As per Stage Team but Access All Areas if medical attendance is required.
Teams Floorplan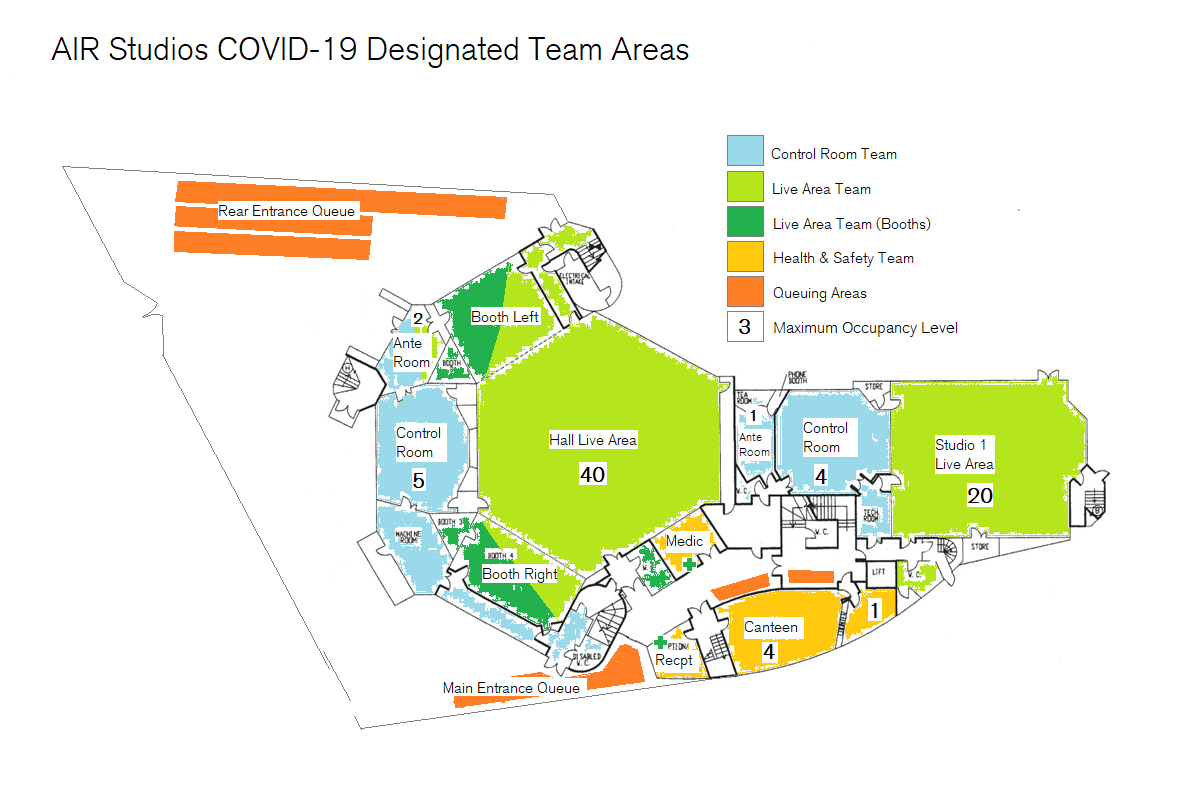 Session End
Once all musicians have left the building for the day then the Control Room Team and Stage Team may move more freely for the rest of the day to facilitate break-down and setup. Social distancing must be observed at all times. Care should be taken when handling equipment that has yet to be cleaned; it is advised to wear gloves if practical for the job.
Ventilation
Updated 13 June 2020
All our air conditioning is now running at 100% fresh air. This air supply is from intakes at the top of the building. Each studio & live space has a separate system. The Hall's extract system is automatically enabled whenever the session is not in record - 60-70% of a session.
AIR Conditioning Specification
The ac/hr (air circulation per hour) for each space is:
Hall Control Room 13.5 ac/hr
Hall Live Area 1.66 ac/hr
Studio 1 Control Room 28.5 ac/hr
Studio 1 Live Area 7.75 ac/hr
Studio 2 Control Room 18.75 ac/hr
Studio 3 Control Room 13.25 ac/hr
Studio Capacities
Updated 13 June 2020
The UK Government Social Distancing Guidelines of 2m has reduced our studio capacity levels significantly.
The maximum capacity in each of our rooms is as follows:
The Hall
Control Room – 5 people (Engineer, Recordist, Assistant, 2 Clients)
Live Room – 40 musicians - includes musicians in booths when "open"
Large Booths (x2) – 2 people in each when "closed"
Small Booths (x2) – 1 person in each
Ante Room – 2 people
Green Room – not available
Studio 1
Control Room – 4 people (Engineer, Recordist/Assistant, 2 Clients)
Live Room – 20 musicians
Ante Room – 1 person
Studio 2
Control Room – 3 people (Engineer, Assistant, Client)
Ante Room – 1 person
Studio 3
Control Room – 3 people (Engineer, Assistant, Client)
Ante Room – 1 person
Mastering
Suite – 1 person (Engineer) Unattended only
Prep – 1 person (Engineer)
Restrictions on Movement
The control room personnel will not be allowed into the live area, particularly whilst there are musicians on the floor.
There will be a stage assistant designated to perform essential live area duties. In turn they will not be allowed in the control room
Technical support personnel will make every effort to resolve issues remotely. However they may be required to attend these spaces on occasion.
Session Times
Updated 13 June 2020
AIR Studios will only by taking bookings for two sessions on any given day. In general this will be for the same set of musicians except where sessions are either:
Soloists
limited numbers so that equipment is not shared across sessions
Duration
3 hours extended to 3 hours 30 mins
4 hours extended to 4 hours 45 minutes
Breaks increased to 10 minutes per hour
Choir breaks increased to 10 minutes per 40 minutes
Actual timing of breaks may vary session to session and may be longer to facilitate larger ensembles.
Remote Monitoring
Updated 13 June 2020

To complement our policy of keeping as many of the productions personnel off-site as possible AIR has updated it's range of remote monitoring options:

Zoom
Talkback and video. Application or web

Audiomovers
HQ audio feed. Web-based, no app required

Source-Live
HQ audio & video. Web-based, no app required

SourceConnect Pro-X
HQ audio, talkback and pic sync. Complex setup.

SourceConnect Now
Talkback. Web-based.

Nicecast
Depreciated. Audiomovers provides better functionality.
Contact
For further details or answers to specific questions you may have please contact us:
AIR Studios Coronavirus Team – coronavirus@airstudios.com